Corporate Social Responsibility
Respect and consideration with regards to production, materials, and suppliers
For us it is important to be innovative within sustainability and corporate social responsibility and it has always been a priority at Protac. The mere founding of Protac happened to help and support children and adults with sensory disorders to deep sleep and improved quality of life.
There are many considerations to be taken in the development and production of assistive devices. Because we develop our assistive devices from start to finish, we know exactly which materials have been used, and we use our occupational therapy knowledge to show consideration for the user during product development. We make sure that the products meet the safety requirements that apply in the countries where our products are used, both inside and outside the EU. That is why we prioritize testing our products regularly, which benefits both users and the environment.
CE-marked assistive devices
All assistive devices from Protac are CE marked according to Medical Devices Class I and responds to STANDARD 100 by OEKO-TEX
®
nr. 2076-310 DTI. Protac uses custom-made low-noise EVA balls. The balls are TÜV-tested and approved according to 1907/2006/ec and the REACH requirements. All materials are carefully chosen with regards for high quality and various valid standards.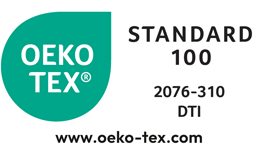 Incidents
Along with the responsibility of the manufacturer also follows the obligation to report incidents.
Incidents related to the use of Protac® BallBase must be reported to Protac
Serious incidents related to the use of Protac® BallBase be reported to Protac and the competent authority of the country where the incident takes place.